Review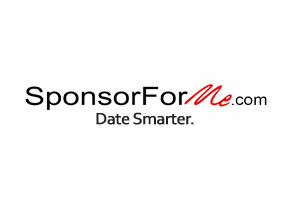 Alright, so I felt that Sponsorforme.com was a site way more beneficial towards women, so I've asked my old pal Mandy to step in and handle this one. If I join, then I have to actually give these women money or buy them stuff, and sorry readers, that's breaking my bank a bit too much for the sake of accurate reporting!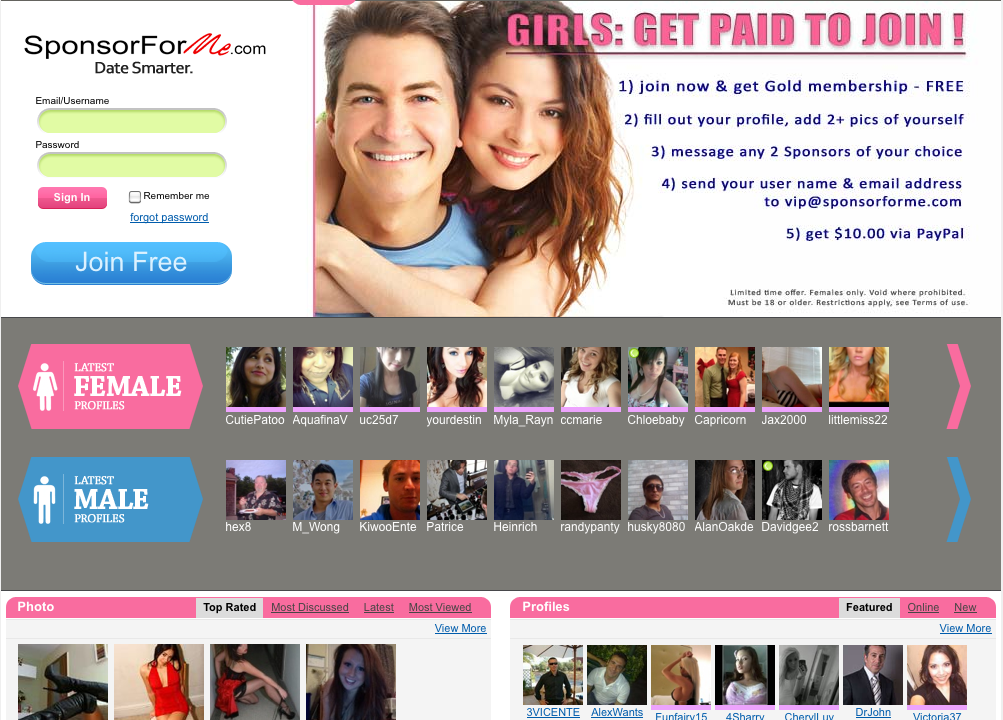 Ladies, pay attention!
Hey all! So the site is actually a pretty genius idea, when you think about it. I mean, what girl doesn't want a man to buy her stuff? Before I tell you my review, let me summarize the purpose of the site, by providing you with clear definitions on the roles of members in the site:
A Sponsor is usually male, and is the person in the relationship that provides the support (financial or otherwise.)
A Sponsee is usually female, and is the person that is receiving the support (financial or otherwise.)
Apparently the difference between this site and a sugar daddy site is that the support isn't always monetary, and it doesn't have to be. (DAMN!) The only thing they explicitly state is that you cannot offer money for sex, and you aren't allowed to post nude photos on the site.
For women who are looking to score some extra cash  as well as meet guys though, this site is great!!
First Impression
I had to wait to get my profile approved, and once I did I went to the Sponsorforme homepage and saw that right away I had 556 matches. Normally, I could have logged out of the site permanently right then, and called it off as a scam. But then I remembered these are matches based on a very basic idea of what I want in a sponsor, not a mate.
Cost
Free to join for men and women, women are automatically upgraded to free gold membership. Accepts all major credit cards


Men must pay to upgrade to Gold membership, which is a cheap $2.99 fee. After this, in order to send gifts you have to purchase credits, which are broken down here:
• $9.99 for 100 Credits
•$24.99 for 500 Credits
• $99.99 for 2500 Credits
Pros
Uhhm, money?! Actually, its not that big of a deal. You get $10 sent to your paypal account, but you have to meet their guidelines to do so, which are:
submit 2 or more eligible pics (non-nude)
contact at least 2 male sponsors via Messages in the members area
After those, you have to send an email to [email protected] with your user name and email address. If you are genuinely looking for a sponsor, then this isn't really a big issue.
Another selling point is the fact that you can pretty much set your own expectations, and sex is NOT a requirement, at least, not initially. It is up to your own discretion, I guess.
You can also make your own personal notes on a potential sponsors profile. LOL, maybe to get them all in order, so you don't forget something?
A big benefit to this site is that women reap the benefits of having a boyfriend without actually HAVING TO HAVE ONE, in my opinion. Boyfriends are supposed to help support you, but if you don't have one, this site will help!
Cons
You have to submit your profile and wait for it to be approved, ostensibly to ensure you are a legit person. Thankfully, I only had to wait about 15 minutes before I got the email saying it was approved.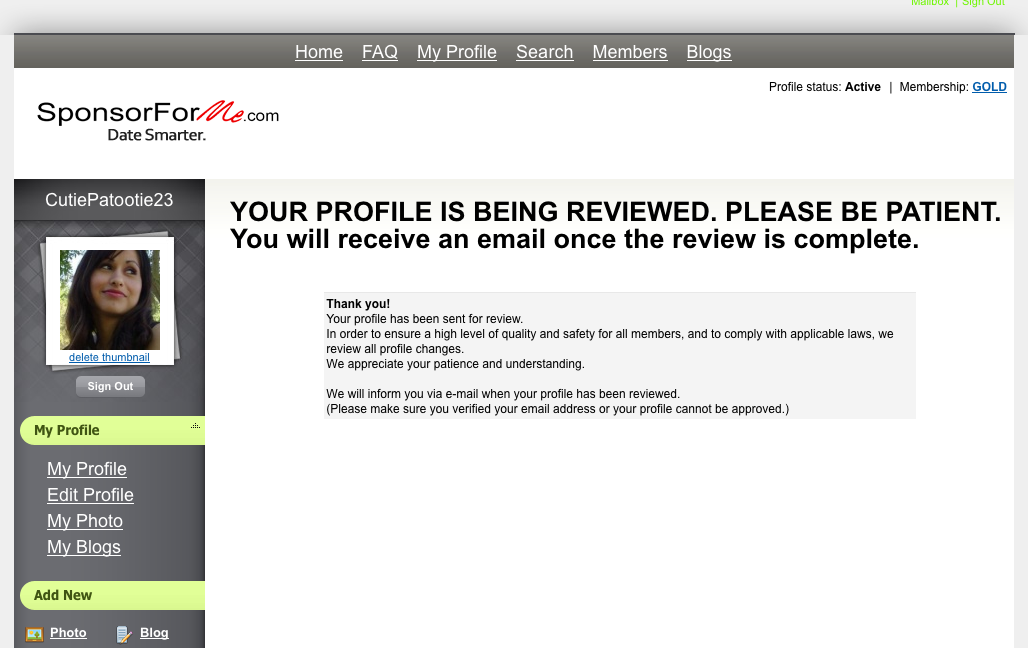 Interestingly enough, approval of men's profiles takes significantly longer. Justin created a profile so that we could do a side by side comparison of the site, and his took over 2 hours to be approved. One thing I could see needing some improvements are the limited profile options. There isn't a whole ton of things you can do with your own profile, other than re-arrange the content and colour scheme. You can write a blog, add pics, invite friends to the site, and view any public gifts you've been given.
Bottom Line
Sponsorforme.com is a pretty decent site for women looking to get a little support (which type of support is up to you, lol.) Guys may or may not see the benefit, as it depends on how much they want to shell out and what they expect in return. For women though, it's nowhere but up!